NINGA MÌNÈH
IN CONVERSATION WITH
Caroline Monnet & Hima Batavia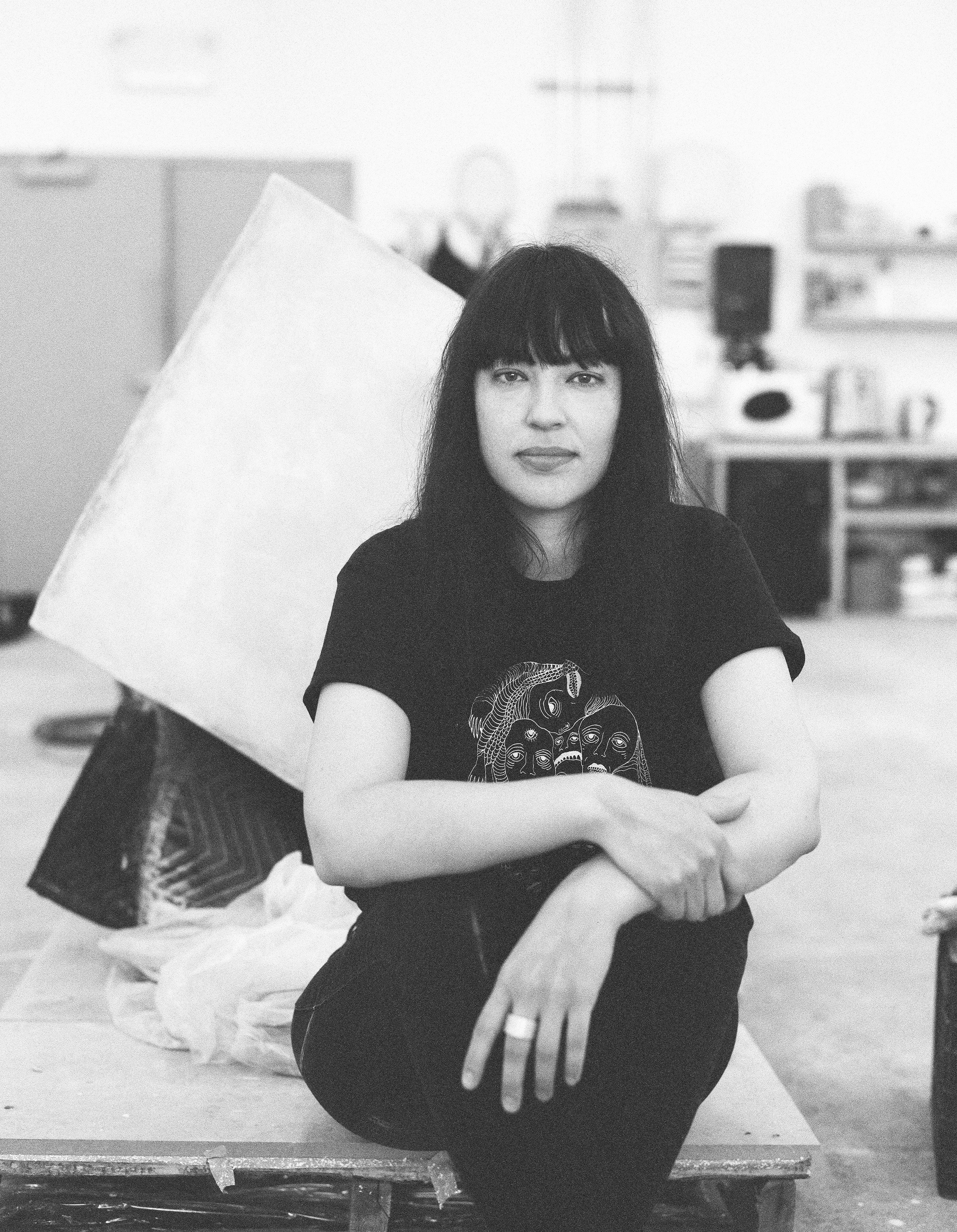 Picture taken in my studio in Montréal
Credit: Sandra Larochelle
Caroline Monnet knows why she is here. As a self-taught artist who experiments with mediums and materials, she is intent on using her voice to reveal the social structures that have harmed her community as an Anishinaabe and French woman. Her intricate works, inspired by patterns passed down from the matriarchs in her family, stand for only one possible way forward: reconciliation, and a reorganization of power within colonial institutions and a commitment to respectful relationships.
She takes this interview from the Anishinaabe Territory in the Outaouais and Pontiac region, the land of her ancestors, just weeks after she closed her first solo museum exhibition,
Ninga Mìnèh
, at the Montreal Museum of Fine Arts.

In Conversation





HIMA:
After almost 18 months of revealing more of so-called Canada's history of genocide against Indigenous communities, how are you really?
CAROLINE:
People forget that Indigenous communities have gone through so much. They forget the history. Let alone knowing the history. It's a good thing this chaotic past comes to light. But it also comes with a fair load of emotions, anger and tiredness. A lot of my friends, family and peers are emotionally drained by all this. We grew up hearing those stories and now we have evidence that they were true. There's an ongoing genocide of Indigenous people in this country...
Photo portrait taken by Ulysse Del Drago

HIMA:
What has healing looked like for you during this time? How might the grief of this period transform in your practice?

CAROLINE:
I've been spending a lot of time away from the city and spending time with family in the last year. This allows me to find balance within my busy production and artistic schedule. I've realized that we tend to numb ourselves with a buzzing lifestyle but this past year has shown me that the most important things are very simple, such as self-care, self-respect and healthy relationships. My current practice is very much focused on uplifting Indigenous voices. I believe it's more important now than ever before because people are listening and we are given platforms to speak out.

I've looked at the events that have ripped Indigenous communities apart since the beginning of my film and art practice- the journey through intergenerational trauma, politics, displacement and grief. There are ways to bring these topics to the forefront of conversations and create a safe space through art and stories.

HIMA:


How are you defining this moment in the process that you call the 'inevitable institutional erosion' - like the second hand garments featured in your work?

CAROLINE:
We need institutions so that the greater public can have discourse with us and if the institutions leave, the discourse leaves with it. Bad intentions can be rectified with time and proper education. What needs to erode are the systems and patterns that have put us aside of the institutions and put us down. We could keep the institutions as long as the players within those institutions are willing to do the necessary work to change mentalities and work as equals to us. Education can go a long way.


HIMA:
How has the narrative towards Indigenous resurgence and liberation shifted during this time and what has this meant for your working relationship with institutions?

CAROLINE:
I think it's more relevant now than ever to establish bridges with institutions as they have started to put a foot forward. Thankfully, they are beginning to showcase and engage with Indigenous thinkers. It's a good start which can lead us to the day when we feel fully included in the conversation and when Indigenous exhibitions within those institutions become the norm. This work, we have to do it together. We have to acknowledge the chaos of the past, educate and thrive for change and mutual respect.


HIMA:
You've mentioned previously that you aren't sure if reconciliation is possible between Indigenous and non-Indigenous communities, in the same way many abolitionists don't believe in 'reform' and I'm curious if and how your perspective has evolved, if at all?
CAROLINE:
I've come to the point where we have to believe that reconciliation is possible because the inequalities, injustices, and environmental struggles faced by Indigenous communities have become unbearable. There is no other way than working together for the future of coming generations.
Canada can no longer ignore the importance of including Indigenous people in all spheres of the social structure. Indigenous communities are growing bigger, more vibrant and active each day. There needs to be a healthy dialogue in order to move forward. But for this, there also needs to be a lot of proactive actions showing that Canada is ready to accept that we are an integral part of this land and recognize its deep colonial past.
HIMA:
Congratulations on your first solo museum exhibition, Ningh Mìnèh! The layers of the work really moved me. What has been the reception and dialogue coming out of the exhibition?

CAROLINE:
The response has been very positive. I was touched by the amount of interest in my work and my practice. It got a lot of media coverage which is amazing because it helped bring the housing crisis within Indigenous communities to the forefront of public dialogue. I feel that accessing a platform like the Montreal Museum of Fine Arts allows me to bring these types of topics to larger audiences. It's very exciting.
HIMA:
Given how connected your practice is to 'materials of inspiration' - what material(s) might represent the current climate between artists and institutions and why?



CAROLINE:


A work must contain several layers of meaning to reach its full depth. Every detail is thought out and contributes to the message I want to convey. I like it when these conscious choices allow me to tell a story with more clairvoyance. The use of insulating foam, waterproof membrane or even glass wool supports the allegory of the physical, psychological, political and social isolation of First Nation communities. I want the works to speak for themselves, and if I can insert a social or political posture in them, they take on their full meaning. I seek to transform industrial materials into poetic forms, where each surface becomes a potential for ornaments that instill pride. My works play on the tensions between natural and industrial, between metaphysics and the concrete world. Tyvek is a synthetic material that I really like to work with. It is used in construction and acts as a protective shell for homes. I do embroidery on it or cut it to create hybrid works where the industrial material softens to make room for another language. Each material reacts in different ways. I use large commercial materials and have to accept their imperfections and peculiarities. This is what stimulates me in this process, because each work, even if it is accompanied by the same manufacturing process, will never be identical to another. Maybe transforming these construction materials in another form is a way to reject the current social structures in place.




I've also recently been experimenting making an artwork with black mold, which is basically a mushroom that colonizes a surface. It was an incredible medium to speak about the loss of our lands in the hands of colonization. Black mold is incredibly toxic when humidity infiltrates our homes. On the flip side, mushrooms, found in the woods can cure you of many ailments. They are the network underneath the soil that we walk on and help to establish a lush network between all living things. It holds the natural structure of the world together. A lack of vision and improper ways of building can create a very toxic environment.






HIMA:


Your work includes striking motifs 'passed down by matriarchs' - and I'm curious what meaning(s) and wisdom(s) do you draw from the patterns, shapes and lines?
CAROLINE:
Indigenous women in my surrounding are some of the strongest people I know. I'm always reminded of this while creating my designs. The first time I started exploring these designs, it was to grieve the loss of a strong matriarch in my family. She was the one that had previously explored these designs and had shared them with me. When she passed, I started repeatedly making them as a way to honour her and get through grief. Slowly they became my own signature, and a way for me to tap into my subconsciousness.
The designs on these works are inspired by traditional family designs, but also more common Algonquin designs found on birch bark baskets and beadworks. I am fascinated by the birch bark biting technique that allows me to create intricate designs that use geometry and symmetry. On my end, I use the computer to make my patterns. They start resembling city maps and QR codes, as much as remaining true to the weaving and beading that inspire them. The more I make them, the more they evolve into their own language, acting as microchips that transfer knowledge across generations, hoping to offer a glimpse back and a path forward.
Matriarchs and women play an important role in my practice and I try to bring a positive representation of Indigenous women as they're still today the most marginalized group in our society. Too often, they are presented in the media under the stereotypical image of a victim, abused, uneducated and poor. With that in mind, I appropriate the tropes and attitudes from European art history in order to counter this negative and stereotypical representation. Fifty years ago, we weren't allowed to express ourselves creatively, so working with these designs is a way for me to reclaim them, to keep them alive, but also anchor them into a lineage and my urban contemporary reality. There's a lot of catching up to do.

Renaissance, 2018, Digital Print on Paper, 40" x 60"
Camera: Éric Cinq-Mars Costumes: Swaneige Bertrand
HIMA:
What conversation are institutions not having with artists that continues to perpetuate a relationship of 'power over' rather than 'power with'? What conversation do you want to have?
CAROLINE:
Institutions continue to forget that simply programming Indigenous artists or other marginalized communities is not enough. What really needs to happen is to invite these communities in key positions where we are rightfully represented and the level of understanding is clear and mutual. It is slowly changing across the country, and that is exciting for what the future holds. I just hope that the next generation will not be intimidated to take up space and establish their own ways of methodologies. It's hard to shake structures that have been implemented for so long. But the paternalistic model does not fit with many of these communities' values and approaches. When we realize the structures of the institutions are not working for us, we have the right to question them and propose new models of organization.
At this point, the Indigenous community is asking for commitment. Not power, but simply more inclusion and a possibility to move forward together. Showing actual proof that we can join forces to move forward with no one left behind.
HIMA:
What have you needed to compromise to have your work shown in the 'art historical canon' (if at all), and what are you not willing to compromise anymore?
CAROLINE:


As artists we thrive for opportunities to show our work, especially when it can happen on larger spectrums. However I've learned to never compromise my values and beliefs. In the past, I've often worked with non-Indigenous people that present themselves as allies. Which is a good thing if it comes from an honest place rather than a way to check a box or mandate. I think it's about trusting instincts first and realizing that you have the bigger end of the stick. However, it's easily said with a full decade of practice behind me and now being able to carefully choose with whom I associate myself. It's important to not sacrifice integrity in the name of opportunity.

I have to recognize the artists that have gone before me as they paved the way for me to do the work that I do today without compromises. It takes a lot of hard work to be included in the art historical canon, but there's a satisfaction knowing that the work is done not only for myself but also for those yet to come.





HIMA:
How have you reconciled the tension of being recognized within institutional space in so-called Canada that simultaneously actively erases the wholeness of Indigeneity? Which institutions do you believe are showing up?
CAROLINE:
I think things are changing. More and more institutions are including Indigenous voices in their programming and production initiatives. It's very hard not to participate and engage with those institutional spaces because it is basically the existing platforms to showcase your work. Entering these institutions also means being able to participate in the dialogue, educate and bring awareness. Marginalized communities are also starting to access resources to be able to work in their own ways. This comes after years of advocating for inclusion and it pays off. I think we are now able to bring our stories at the forefront and in the mainstream, allowing us to be present within the Canadian artistic landscape. But we want to be included in the conversations at the very beginning, not along the way when everything has already been decided.
As an artist, showing my work is an essential part of my practice. It's the outcome of making the work. I need these institutions to be able to survive as a professional artist. I don't think showing my work in the context of these institutions makes me less Indigenous or with less integrity.
Recently, I've worked with the Montreal Museum of Fine Arts and the MacKenzie Art Gallery, and I'm involved with Daphne, an Indigenous artist run centre based in Montreal. I also want to acknowledge Saw Gallery and

Axeneo7

, who have been doing good work to include marginalized communities over the years.
HIMA:
How do you hope your work shown within institutions might shift how these places and the land these places reside on, reimagine notions of progress and power?
CAROLINE:
Thought storytelling. I am opening the opportunity of sharing a story with a piece of art. I also provide entry points for my work to be understood and accessible. Power is not a word we use in anishinaabemowin. Respect to me is a better word. Commitment to respect that sets us apart from notions of power. We are still very much present. I believe my practice is a fraction within an array of other artists and thinkers doing the work towards change. We can really make a difference together as we are starting to have power in numbers, and this allows for progress to happen and to be determined.
HIMA:
What guidance do you offer Indigenous artists who haven't been as successful in working with arts institutions in Canada? What has been instrumental to your success in navigating these spaces that have shut down so many voices in your community?
CAROLINE:
I think the key is to keep working and thrive for excellence. Don't do the work for the institutions, but rather because you believe in the projects you navigate.
Hard work always pays off. It's about trusting yourself and knowing that as you go along, you'll make the necessary contact that will bring your practice forward. You never know what to expect next and there's always good opportunities waiting. Follow your guts.
HIMA:
What question(s) might you ask people to consider as we continue to collectively 'world-build' post-colonial ways of being, and plant seeds for new types of cultural spaces and institutions?
CAROLINE:
It is undeniable that we need to recognize Canada's deep colonial past and how it has affected the lives of Indigenous people across this country. How politics have infringed on self-determination, self love, emancipation, and a sense of belonging for many Indigenous families. We all have to live with that reality and learn to look ahead without ever forgetting the resilience and strength of our ancestors.
Can we uplift and help grow our direct community so that relations to other communities become stronger?
LINKS
Hima Batavia